LifeBridge Nebraska Takes Action to Prevent Physician Suicide
National Physician Suicide Awareness Day, September 17th, encourages individual and system action to better support physician mental health and wellbeing

Today LifeBridge Nebraska honors National Physician Suicide Awareness Day (NPSA Day) to help shift the health care system from one where physicians think burnout, depression or suicidal thoughts are something they must overcome by themselves to one where they see the support system around them. As a NPSA Day Supporting Organization,
LifeBridge Nebraska is helping to break the stigma of seeking help for physician mental health and wellness.
Physicians have one of the highest suicide rates of any profession. More than half of physicians know a physician who has either considered, attempted or died by suicide in their career, and it is estimated that a million Americans lose their physician to suicide each year. Unfortunately, the state of physician wellbeing in 2023 remains low, while residents and medical students struggle even more.
Three-quarters of medical students have felt inappropriate feelings of anger, tearfulness or anxiety, as well as 7 in 10 of residents and over half of physicians.
More than half of medical students, a third of physicians and 4 in 10 residents have felt hopeless or that they have no purpose.
Over two-thirds of medical students report withdrawing from family, friends and coworkers, as well as more than half of residents and 4 in 10 of physicians.
These feelings can lead to burnout and, when left untreated, can cause more cases of depression, anxiety, post-traumatic stress disorder (PTSD) and lead to suicidal thoughts for physicians, directly impacting physician suicide rates. However, physicians, residents and students have identified solutions they need to improve their mental health and wellbeing. Now is the time to get mental health resources in the hands of current and future physicians, to remove intrusive mental health questions from licensing and credentialing applications and to take action to create a culture of wellbeing in medical schools, residency programs and workplaces.
Learn the seven actions to help reduce physician burnout and ensure physicians' struggles don't become mental health emergencies.
Learn the Vital Signs
Encourage mental health reflection
Shae suicide prevention resources
Prepare before a moment in crisis
Check in with a physician
Remove intrusive mental health questions
Create a culture of wellbeing
To find out more information, visit NPSADay.org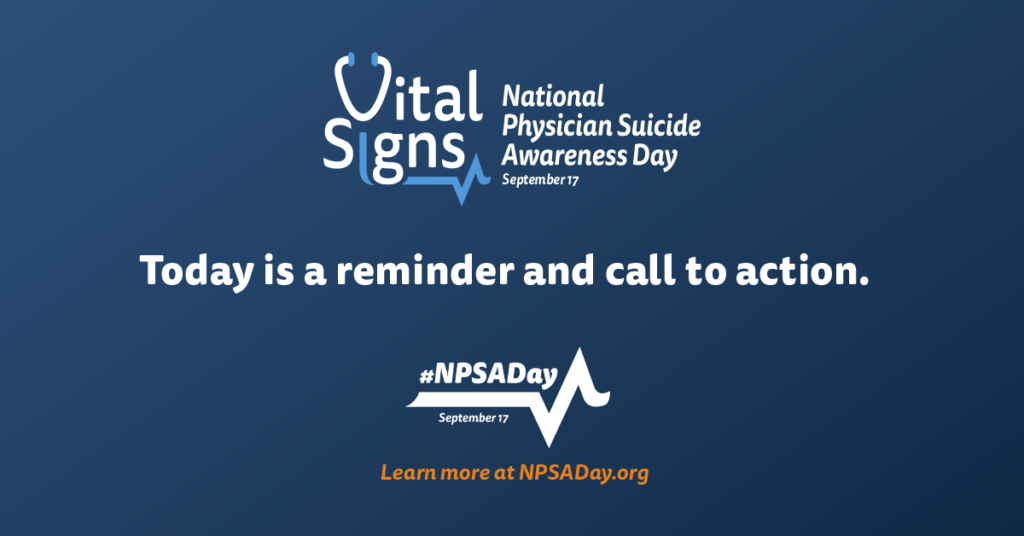 About National Physician Suicide Awareness Day
National Physician Suicide Awareness Day (#NPSADay) is a reminder and call to action. It's a time to talk – and to act – so physicians' struggles don't become mental health emergencies. Prevention begins with learning the signs, starting the conversations, removing intrusive mental health questions and sharing the resources that can help those in distress seek mental health care. National Physician Suicide Awareness Day is an annual event that takes place on September 17, with a mission to break down the culture of silence around physician mental health. Learn more at NPSADay.org